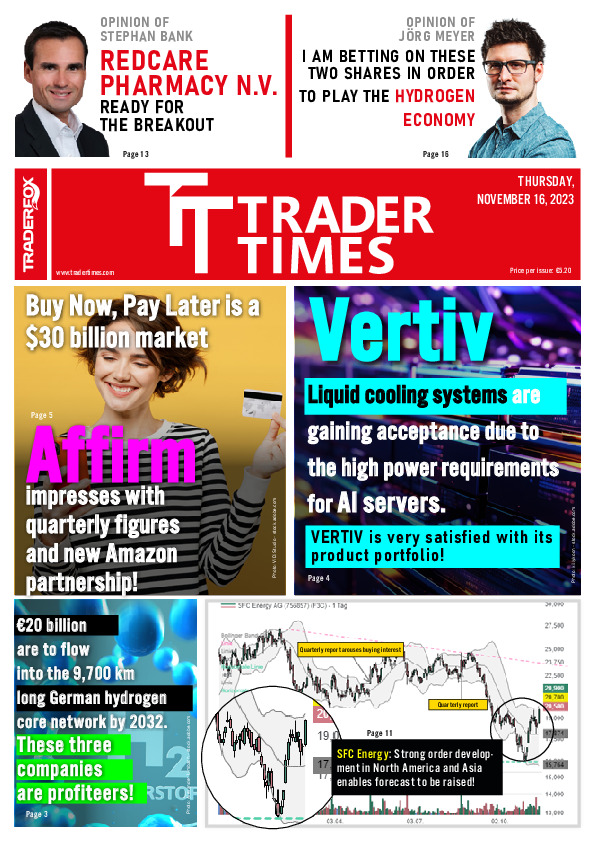 Subscribe Now
Buy Now, Pay Later is a $30 billion market - Affirm impresses with quarterly figures and new Amazon partnership!
With a market capitalization of around $7.8 billion, the US fintech is a direct competitor to PayPal and Block in the Buy Now, Pay Later market. The company offers consumers installment payments for online purchases and at the point of sale in stores, which are becoming increasingly popular in times of high inflation. Affirm aims to differentiate itself from its competitors by offering fixed interest rates, transparent installments and no hidden costs. Unlike many competitors, no penalties are charged for missed or late installment payments. Affirm earns money primarily through interest retained on the loans granted as well as through fees collected from merchants. According to Fortune Business Insights, the global Buy Now, Pay Later market is expected to grow from $30.38 billion this year to $122.19 billion by 2030. This assumes average annual growth rates of 22%.
Affirm is the market leader in Buy Now, Pay Later - Truist now sees 30% opportunity after positive news!
Following a better-than-expected first quarter for the current financial year 2024, analysts at Truist upgraded Affirm from $28 to $33 (Buy), which corresponds to upside potential of a further 30%. Buy Now, Pay Later is seen as a "viable payment method" in which Affirm is considered the market leader due to its superior technology. The expert highlights adaptive checkout, card payments and key corporate customers. Total sales increased by 37.3% to $496.55 million (consensus: $444.77 million). This was boosted by a 28% increase in gross merchandise volume (GMV) to $5.6 billion. This grew more than three times as fast as total US online retail. At $ -0.57 per share (consensus: $-0.70), the net loss was significantly lower than feared. CEO and founder Max Levchin spoke of continued gains in market share. A key takeaway from the last quarter is said to be that after last year's interest rate adjustments, it is possible to expand at a reasonable pace while managing credit risk in an environment with higher interest rates in the longer term. Active customers increased by 15% to 16.9 million and the merchant network grew by 9% to 266,000 participants. Payments are also growing strongly with over 400,000 active cards, where the gross merchandise volume accelerated significantly from $130 million in the last quarter to $224 million. With 40 million potentially reachable card users in the short term and 240 million in the USA in the long term, the potential is far from exhausted.
Affirm now exclusively for Amazon Business - creating a win-win situation
Shopify also remains an important partner, where the annual growth rate of Shop Pay installs with Affirm has accelerated for the 3rd quarter in a row. Since August 2021, Amazon customers in the United States have been able to access Affirm's installment payments for orders of $50 or more. This collaboration will now be intensified just in time for Black Friday on November 24, with Affirm becoming the first and thus exclusive Buy Now, Pay Later provider for the business-to-business store. Amazon Business already has over 6 million customers and was launched in 2015 as companies used the retail website for office supplies and bulk purchases. The focus is on sole traders or small businesses owned by just one person, which is the most common type of business in the US with 28 million registered small businesses. Amazon can therefore offer more attractive payment methods, while Affirm opens up a new source of revenue. For the second quarter, management forecast sales of $495m to $520m (consensus: $502.39m). A loss of $ -0.57 per share is expected (consensus: $-0.61). Revenue is expected to increase by over 20% on an annualized basis. Sales growth of over 20% and a gross merchandise volume of $24.25 billion (previously $24 billion) are now forecast for the 2024 financial year. The adjusted operating margin is also expected to exceed 5% instead of the previous 2%. The analyst consensus assumes that total sales will rise from $ 1.99 billion this year to $ 2.42 billion by 2025. However, black figures are not yet in sight.
Want to keep reading?
You can find the entire story in The Trader Times. Get a 4-week trial subscription now and access the entire archive!